Open Weekend December 2023
This year our winter open day will be over 2 days
Saturday 2nd & Sunday 3rd December
11.00 - 4.00
SALE OF TRIALS & SECONDS Demonstrations POT THROWING Vintage glass shop FREE REFRESHMENTS
---
New Designs Winter 2023
---

Dennis Chinaworks have made these three unique vases for auction in the
British Art Pottery and Design
Wednesday 29th November 2023
Hero
Cube vase designed by Sally Tuffin
Modelled by Rory McLeod
Painted by Vanessa Thompson
Highlighted in Lustre, marked WW23, Height 33cm.
Estimate £850 - £950
klimt Japanese Teapot
Designed by Sally Tuffin
Thrown by Rory McLeod
Painted by Theresa Blackmore
Highlighted in Lustre, marked WW22, Height 16cm.
Estimate £700 - £800
Titan
Sphere vase designed by Buchan Dennis
Thrown & modelled by Rory McLeod
Painted by Buchan Dennis
Marked WW21, Height 20cm.
Estimate £750 - £850
---
The Village flower show, Isy Green wins the Dennis Chinaworks plate for best in show. Based on Eric Ravilious.
 
---
Chess Mice
We are selling the last of the chess pieces we have in stock that we had kept as samples, 

they are all numbered and are first quality.
If you are interested in any of the pieces below please contact us by email.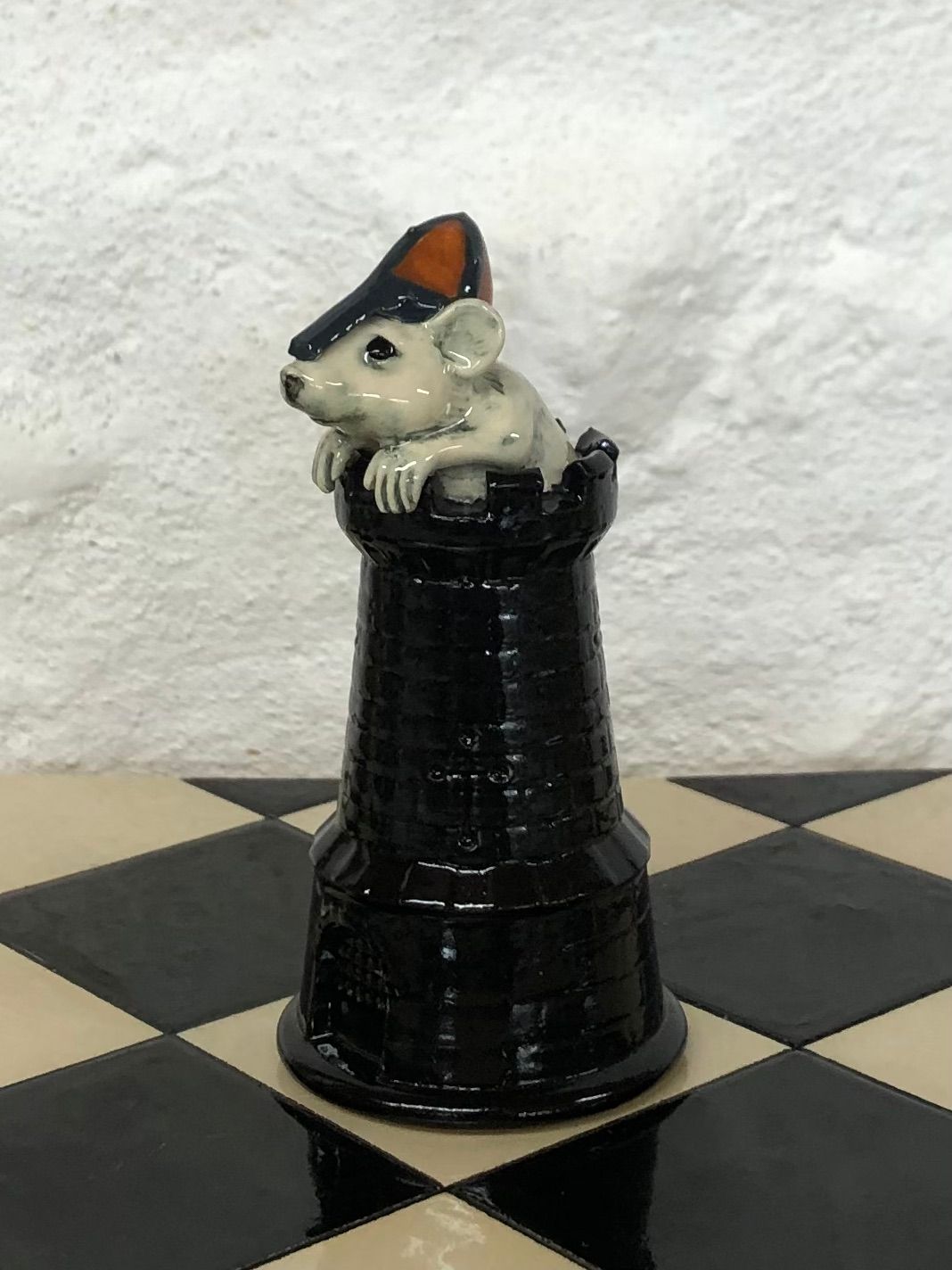 Black Rook £210 + vat
Black Bishop £190 + vat
Black Pawn £100 + vat
White Rook £210 + vat
White Bishop £190 + vat
White Knight £165 + vat
White Pawn £100 + vat
---
It was a pleasure to see so many people at the open day, thank you for your support and feedback.
---
Please click below for Dennis Chinaworks Slideshow 2020
---
Based on a drawing by L.S.Lowry this authorised edition have been created by the Dennis Chinaworks and designed by Sally Tuffin.
She has taken Lowry's original work and interpreted it to work seamlessly around a three dimensional vase.
The 10 inch pot is hand thrown on a wheel by Rory Mcleod and hand painted by Vanessa Thompson using brush techniques which make the pot unmistakably a Lowry.
Lowry "The Football Match" Limited edition vase
£550.00
---
---
Series 18, Episode 28
Jules Hudson is on a house-hunting mission in the Somerset countryside.
Away from the property search, Jules meets Sally Tuffin,
a former London fashion designer turned ceramics artist,
and sees how her creative work is inspired by her rural Somerset surroundings.
BBC's 'Escape to the country' filming the pottery
---
Dennis Chinaworks has made a stunning cup for Professor Jonathan Mallinson, the retiring Dean of Trinity College Oxford.
Presented to the college it will be displayed with college commemoratives.
The shape is inspired by the carved wooden chalice by Grindling Gibbons in the 17th century college chapel.
The cup is decorated with a pattern fronm the wrought iron gates of the college and impressed with the quotation
'All that is gold does not glitter' and a latin inscription which translates 'A fellow gave this chalice to the fellows with much affection - 2017'.
Thrown by Rory Mcleod, designed by Sally Tuffin & decorated by Theresa Blackmore.
SOMERSET TWENTY YEAR OLD
IN A DENNIS CHINAWORKS BOTTLE 70CL. (42%) - £350
Commissioned Designs
---
The Somerset Cider Brandy Company commissioned Dennis Chinaworks
to make these limited edition bottles for their 20 year old Cider Brandy.
Available from the link below
Someone obviously likes them as the first one has been stolen from the shop at Burrow Hill.Please keep your eyes out it's no.1 (Geometric)
SOMERSET TWENTY YEAR OLD
IN A DENNIS CHINAWORKS BOTTLE 70CL. (42%) - £350