NEW DESIGNS 2018
WILLOW
10" POD VASE £580 + vat
TIFFANY TREES
10" CONICAL VASE £560 + vat
TIFFANY TREES
7" CONICAL VASE £270 + vat
RING FISH
10" SPILL VASE £380 + vat
LUSTRED FISH
10" SPILL VASE £340 + vat
LUSTRED DOUBLE D
10" SPILL VASE £180 + vat
BEETHOVEN
10" SPILL VASE £400 + vat
CHEETAH
5" MR T VASE £240 + vat
TIGER
5" MR T VASE £240 + vat
SNOW LEOPARD
5" MR T VASE £240 + vat
LION
5" MR T VASE £240 + vat
---
'Winter' Bourton-on-the-water 7" Conical Limited edition of 25
Nina Holland  The Cotswold Shop High Street Bourton-on-the-Water Gloucestershire GL54 2AN T: 01451 820 547
---
Series 18, Episode 28
BBC1 at 3pm on Tuesday 30th January.
Additionally, you will be able to watch the episode on BBC iPlayer for 30 days after it has first been aired on BBC1.
click here for link to escape-to-the-country
Jules Hudson is on a house-hunting mission in the Somerset countryside.
Away from the property search, Jules meets Sally Tuffin,
a former London fashion designer turned ceramics artist,
and sees how her creative work is inspired by her rural Somerset surroundings.
BBC's 'Escape to the country' filming the pottery
---
Dennis Chinaworks has made a stunning cup for Professor Jonathan Mallinson, the retiring Dean of Trinity College Oxford.
Presented to the college it will be displayed with college commemoratives.
The shape is inspired by the carved wooden chalice by Grindling Gibbons in the 17th century college chapel.
The cup is decorated with a pattern fronm the wrought iron gates of the college and impressed with the quotation
'All that is gold does not glitter' and a latin inscription which translates 'A fellow gave this chalice to the fellows with much affection - 2017'.
Thrown by Rory Mcleod, designed by Sally Tuffin & decorated by Theresa Blackmore.
---
Commissioned for the William Morris gallery
Lloyd Park, Forest Road, Walthamstow, London, E17 4PP
'Birds' 7" Spill 'Avon' 10" Spill 'Marigold' 7" Conical
---
Bourton-on-the-water 7" Conical Limited edition of 25
Nina Holland  The Cotswold Shop High Street Bourton-on-the-Water Gloucestershire GL54 2AN T: 01451 820 547
---
Commissioned vase for the William Morris Gallery exhibition -
'Be Magnificent: Walthamstow School of Art 1957-1967'
Lloyd Park, Forest Road, Walthamstow, London, E17 4PP, www.wmgallery.org.uk
---
April edition of Somerset Life Magazine
---
New shapes / Designs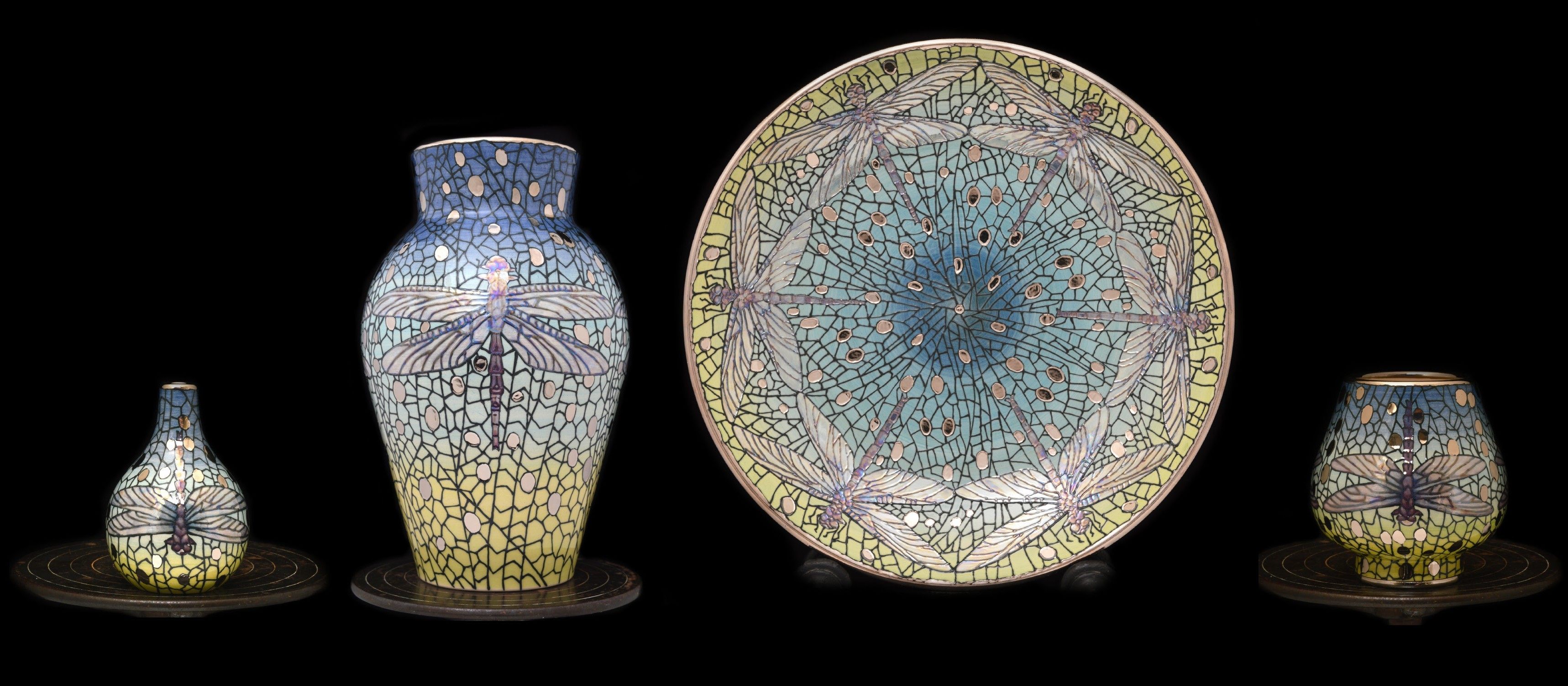 Elizabethan Textile
Elizabethan Embroidery
S Baluster 21 cm £360 New
Fish & Waterlily New
SOMERSET TWENTY YEAR OLD
IN A DENNIS CHINAWORKS BOTTLE 70CL. (42%) - £350
Commissioned Designs
---
The Somerset Cider Brandy Company commissioned Dennis Chinaworks
to make these limited edition bottles for their 20 year old Cider Brandy.
Available from the link below
Someone obviously likes them as the first one has been stolen from the shop at Burrow Hill.Please keep your eyes out it's no.1 (Geometric)
SOMERSET TWENTY YEAR OLD
IN A DENNIS CHINAWORKS BOTTLE 70CL. (42%) - £350
Platinum Lustered Holden Wood Vase. 12" Cylinder vase. £695.00
Specially commissioned for Holden Wood celebrating 20 years made in an edition of 20.
UK Art Pottery
Holden Wood Antiques Centre,
Grane road , Haslingden
Lancashire, BB4 4AT.
Telephone 01706 830803
---
'Stoke'
7" Conical
The traditiional skyline of Stoke on Trent
Commissioned vase for Glazed Art, Trentham Gardens, Staffordshire, ST4 8 AX, 01782 657842
---
'Turtles'
Artifacts Ltd.
Cayside Galleries
Cayman Islands
PH: 345.949.2442 Email:artifax@candw.ky