CHRISTMAS SALE
Dear friends & collectors we hope you are all well.
Unfortunately we have been unable to have any open days this year so in keeping with the times we are having
a 'Virtual Open Day' to give everybody the opportunity to buy original trials & discontinued designs.
The sale starts on Saturday December 12th at 9.00am.
It will run on a first come first served basis.
If you would like to purchase or need more information please either
email info@dennischinaworks.com or phone 07973 310 734
Free UK Postage
All descriptions read left to right
Red Carp 8" SF Bottle (second quality) £ 95 sold
Red Carp 14" Medium Bottle no.2/20 £ 400 sold
Ring Fish 10" Spill Trial 2 £ 325
3 Ships 9" Deco no.22/30 £ 558 sold
Fish Net 12" Spill Trial 1 £ 395
Fish Fountain 8" S Flask Trial 1 £ 250
Peacock 12" Flask No.17/40 £ 495
Peacock 8" Bottle (Second quality) £ 200
Humming Birds 9" Deco Trial 1 £ 275 sold
Kingfisher 8" Bottle No.8 £ 175 sold
Koala 13" Skittle No.P18 (repaired chip on rim) £150 sold
Gorilla 8" Barrel Trial 2 £ 400
Kangaroo 13" Skittle No.P17 £400 sold
Tiger 9" Barrel Sample (glaze fault on rim) £ 195
Giraffe 13" Bottle (second quality) £ 300
Cheetah 9" Barrel No.76. £250
Cockerel 8" Baluster Trial 2 £ 250 sold
Dorking Cockerel 10" Spill Trial 2 £ 200 sold
Cockerel 7" Flute Sample £150
Cheetah 8" mr t No.32 £220sold
Tiger 5" mr t No.1 £150
Snow leopard 8" mr t No.28 £220 sold
Cheetah 5" mr t Trial 1 £150 sold
Klimt Trees 13.5" Deco Trial 2 £ 1000
Klimt Beethoven 10" Sidestep Trial 2 £ 200 sold
Josephine Baker 14" Deco Trial 4 £695 sold
Josephine Baker Head 8" Deco (second quality) £ 250
Lotus 7" Flute  No.24 £ 95
Lotus 8" Egyptian No.P42 £ 300 sold
Skater 12"Deco No.1 £ 350 sold
Spring Shopping 14" Deco (good second) £675
Smoking 12" Deco Trial 5 £ 350
Birds in Branches 4.5" Bud No.1 £195
Birds in Branches 10" Conical No.5/10 £ 300
Primrose 10" Spill No.1. £225
Anemone 12" Flask Trial 1 £350
Bluebell 6" Spill No.2 £95
Morning Glory 9" Deco Trial 5 £195
Sunflower 7.5" Barrel Trial 2 £495
Sunflower 8" Bowl No.23 £ 225
Rainforest with modeled butterfly 12" Flask No.10/25 £350 sold
Rainforest with modeled frog 4" Box Trial 2 £250 sold
Californian Poppy 10"Baluster Sample Trial 1 £395
Iris 10" Deco Trial 1 £ 225
Iris 8" Head vase Trial 2 £250 sold
Wild Flowers 13"Deco Trial 1 £200 sold
Gold Finch 5" Conical No.7 £170
Durer Rhino 3" Barrel No.1 £72 sold
Green Finch 5" Conical No.6 £170
Robin 5" Conical No.1 £ 95 sold
Bees 3" Barrel No.1 £72 sold
Mistletoe 4" Barrel No.2 £70 sold
Polar Bear 3" Barrel No.6 £72 sold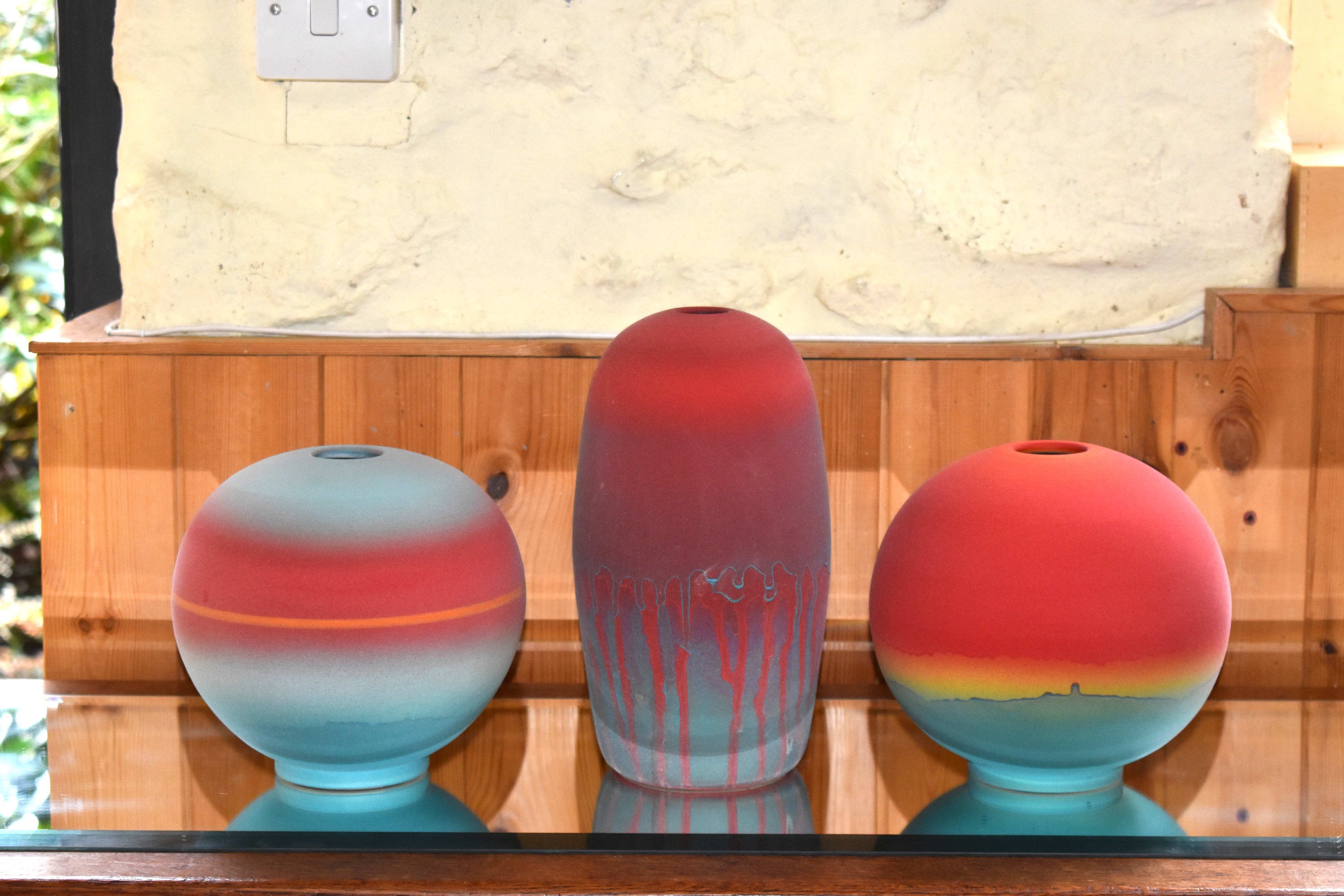 Matt glazed 8" Sphere No.11 £300
Matt glazed 10" Pod No.2 £300
Matt glazed 8" Sphere No.10 £300 sold